The CanGrow Advantage
Advantage: Partnership
For over 20 years CanGrow Crop Solutions, Inc. has enjoyed a unique opportunity to work closely with two very innovative thinkers in plant physiology - Johnny McRight, of Delta Ag Formulations in Greenville, Mississippi and Jerry Stoller of Stoller USA in Houston, Texas. Both of these gentlemen are leaders in plant research and product development, which brings exceptionally innovative and forward thinking to the development of the CanGrow product offering. Because we have a great relationship with these pioneers in practical application of plant physiology, we can blend their products with our own and make prescription style fertilizers to suit individual farms or field conditions.
Advantage: Farmer Network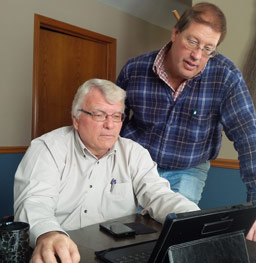 Our farmer network provides CanGrow access to untold years of combined knowledge and experience. We work closely with farmers to educate, to discuss current trends and ideas, and most importantly .... to learn. As farmers ourselves, we recognize that our farmer relationships are an invaluable resource in helping our Products and Crop Solution Programs remain as industry front-runners, ensuring that in-turn, we provide farmers with the best possible solutions available.